Sealux Reg 20 Profile – Installation Instructions
The same process should be applied for other seals in the Sealux range, namely Sealux Regular 15 and Sealux Regular 25. The position and amount of silicone will vary pending the profile you choose. See specific label instructions that are found on the sealing trims.
Sealux Reg 20 Strip Components
Step 1. Protect the tray or bath base.
Step 2. Mark the strip end points on walls.
Step 3. Note for 3 sided installations
Step 4. Mitre cut all strips being installed.
Step 5. Remove saw cut frays. Dry fit strips. Ensure mitre cuts meet.
Step 6. Mark and cut strip end points.
Step 7.  If the strip outer edge does not sit on ledge, score with sharp blade and proceed to step 8
Step 8. If required tear off the removable inner leg.
Step 9. Wipe the ledge with alcohol wipes.
Step 10. Define the position for sealant on the wall. Using a strip off-cut in the fitted position, apply 4 marks to each side wall
Step 11.  Using same offcut apply 4 marks along the ledge
Step 12. Draw a line through the marks applied on the walls
Step 13. Cut nozzle for 5mm hole. Holding the first strip upside down, apply a 400mm line of Sealux-N onto the green bond-breaker tape lining the underside strip surface.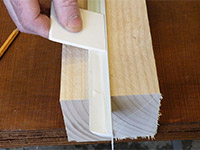 Step 14. Level the Sealux-N across the strip resting the spatula on spatula support leg and strip outer edge. Repeat both processes until first strip is complete.
Step 15.  Lay a line of Sealux-N on the ledge just inside the 4 marks defining the strip outer edge position.
Step 16. Lay a 4mm (light) line of Sealux-N on the wall over the line applied through the 4 wall marks.
Step 17. Rotate the strip into position fusing the Sealux-N in the strip with the Sealux-N on the ledge. Press the strip up-stand firmly against the wall to form a solid bond.
Step 18. Repeat same installation method for the remaining strips.
Step 19. Ensure the Sealux-N is left slightly proud of the mitre cuts to ensure it fuses around the corners.
Step 20. Fit final strip into position
Step 21. Strips may be adjusted before Sealux-N cures to ensure mitre joints match
Step 22. Flush up Sealux-N at strip ends and fix end caps if required.
Step 23.  Remove any excess Sealux-N on the ledge with spatula. Give the strip and ledge a final wipe.
Step 24. Installation now ready for waterproofing.