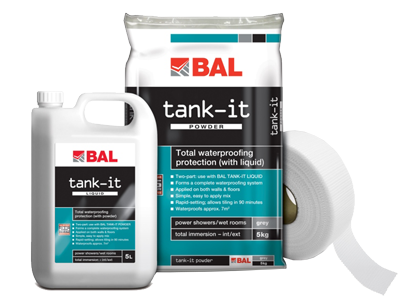 BAL Tank-It
The BAL Tank-It shower waterproofing membrane is a two part power/liquid mix that when used in conjunction with adhesive backed scrim tape, provides full protection in wet environments in just 90 minutes.
For a total tanking solution that includes full immersion, BAL Tank-it offers outstanding long term performance in today's shower environments.
BAL Tank-it is a rapid-setting, rapid-drying, two-part, highly polymer-modified, waterproof cementitious based system for walls and floors.
BAL Tank-it can be applied simply using a standard notched trowel, brush or roller. The waterproofing membrane is easily applied and once set will support tiles up to the weight tolerance of the background/substrate being tiled.
KEY FEATURES:
simple to apply two part mixallows tiling after 90 minutes
perfect for hi-use and heavy duty power showers
For total immersion areas
BAL 25 year guarantee
| | |
| --- | --- |
| Coverage | 0.73m²/kg (per 1mm thickness) but may vary dependent on nature and flatness of surface, and on trowel used. |
| Drying Time | Tile after: 90 minutes (at 20°C). |
| Shelf Life | 12 months under normal dry conditions. Protect from frost and damp. |
| Application/Usage |  Do NOT use in temperatures below 5°C or in damp conditions. |
| Pot Life |  45 Minutes. |
| Packaging | 5KG Powder, 5Ltr Liquid and 20m Tape. |
| Technical Data Sheet |   |
| Safety Data Sheet Liquid |   |
| Safety Data Sheet Powder | |