HydroHALT PlumBud
HydroHALT PlumBud is  is a higher performing shower seal that is fitted prior (first fix) to locating a shower tray or Bath into final position. HydroHALT PlumBud is more versatile than 'stick-on' butyl adhesive strips.
HydroHALT TileBud
HydroHALT TileBud is typically installed during or after the installation of your shower trays or baths. Incorporated into the design is a perforation line that allows the lower portion to be removed if required.
Features & Benefits
Technical features & benefits of HydroHALT PlumBud shower tray / bath joint sealing system
HydroHALT Sealing System
HydroHALT combines a polypropylene fleeced membrane with a sealant backer rod and Sealux-N silicone. The strip is bonded to the wall, the backer rod is bonded to the tray/bath sidewall and the joint sealed with Sealux-N.
HydroHALT can be installed on
To seal upstand free shower trays
To seal upstand shower bases, pans and bath tubs
To seal (non-water sensitive) shower wall panel/ledge joints
To waterproof 'tile over' & 'tile ready' shower bases with upstand
The HydroHALT upstand is a soft polypropylene (PP) strip measuring 100mm wide x 200 microns thick. Layers of non-woven hydrophobic fleece are laminated onto the strip outside face (facing wall) and upper inside strip face (facing ledge) respectively to allow mechanical adhesion with sealant adhesives, tile adhesives and waterproofing materials.
The HydroHALT strip has a fleece free strip extending adjacently to the tray/bath sidewall that is treated to accommodate tenacious adhesion with Sealux-N when applied into the joint formed between the HydroHALT strip and the adjacent shower tray/bath side wall or ledge during installation of the tray or bath as detailed in the above drawing.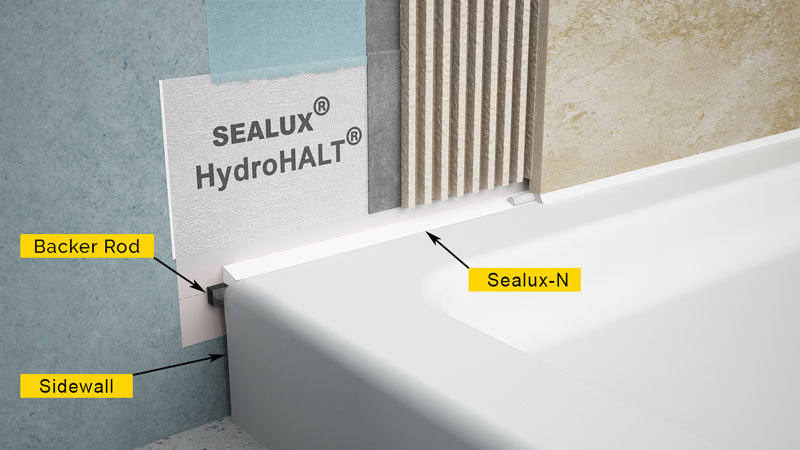 The HydroHALT strip is treated to achieve tenacious adhesion with Sealux-N. When joint expansion occurs between the ledge and wall, deflection in the HydroHALT strip and deformation of the Sealux-N bridge connecting the strip to the tray sidewall accommodates this joint movement (see video below).
| | |
| --- | --- |
|  Strip Length | 2 – 50 Mtrs. |
| Application Temperature | +5/+40 deg C |
| Application Rate | N/A |
| HydroHALT Performance Data | Click here |
| HydroHALT Sealing System | Click Here |
| | |
| Sealux-N Technical Data Sheet |   |
| Safety Data Sheet |   |